Mexico: Fr Pedro Arreola, campaigner for migrants has died of Covid
---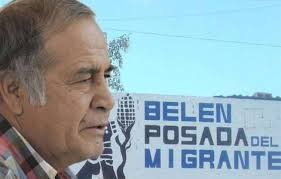 Source: Fides/Diocese of Coahuila

The Catholic community in Mexico is mourning the death of Jesuit priest Fr Pedro Pantoja Arreola, who died of Covid-19 on 18 December. Fr Pedro was a passionate defender of the human rights of the poor, workers, peasants and migrants from Central America who had taken refuge in Mexico.

Founder of the Casa del Migrante in Saltillo, he received national and international awards for his work. Fr Pedro was a priest loved and respected by the community.

Father Pantoja, 76, began to feel unwell in early December and a test revealed that he had the Covid-19 virus. For several days he was treated at home, until his health condition worsened, leading to his transfer to a private hospital in northern Saltillo. He died on 18 December - International Migrants Day. Because of the pandemic, it was not possible to organize a public funeral. On Saturday 19 December, his remains were cremated.
In a message, Bishop Jose Raul Lopes from the diocese of Coahuila asked the faithful to pray for Fr Pedro, who dedicated his ministry to the defence of the human rights of migrants, refugees, workers, farmers and the homeless. The bishop also expressed his condolences to the staff of the Casa del Migrante, which has been a refuge for many thousands of immigrants over the past 20 years.

Father Pedro was born in the state of Durango, but was an adopted son of Coahuila, and lived in Parras, in the coal region, where he led the miners' movements, Acuña and Saltillo. He always supported the idea that migrants are not criminals, but they move because of violence, insecurity and hunger.

He was not afraid to show up at policed stations and courts to defend migrants. At the same time, he would not hesitate to help unload vegetables from supplier trucks to feed the guests at the Casa del Migrante.
More than once, by refusing to receive gifts and money from drug traffickers, he was threatened with death and even beaten up. In addition to the Casa del Migrante in Coahuila, Father Pedro will also be remembered for the creation of the Casa del Migrante in Acuña.