The Rosalynn Carter I knew
---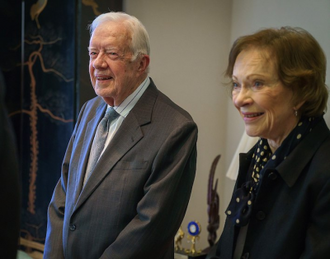 The world has lost a tireless campaigner for justice and peace with the passing of former First Lady Rosalynn Carter, age 96. A woman of profound Christian faith, she never lost sight of the moral calling to give a voice to the world's voiceless and persecuted. Like President Kennedy, who's assassination we mark on its 60th anniversary this week, she advocated for those with mental illness decades before it became a more socially acceptable subject.
I had the honour of knowing Mrs Carter through the work of the Carter Center, which she and her husband Jimmy established after they left the White House in 1980. Rather than making money from corporate directorships or after dinner speeches, the Carters threw themselves into creating an NGO to fight disease and poverty in the developing world, and to ensure elections were free and fair.
In the early 2000s, my husband and I were invited to a dinner in London to meet Mrs Carter who was on her way to see their projects in Africa. We were unenthusiastic, assuming we would be stuck on a table at the back of a banqueting room, and that we were there simply to be squeezed for money.
When we arrived at the hotel, there was one other couple in the room. By the end of the evening, my husband was sitting on the radiator beside Mrs Carter, sharing a bottle of wine and gossiping about US politics (she doubted that the vocally Christian George W Bush had ever read the Bible). She asked us to set up the Carter Centre UK through which we could apply for funding from the European Union. She could be very persuasive, and she was right: the EU was happy to support the Carters' remarkable work.
Like her husband, Mrs Carter was like the energizer bunny: always focused and pushing herself to work on little sleep, making phone calls to donors and reluctant world leaders to advocate for her causes, venturing into malaria-ridden jungles to make sure that people had a chance to vote. Even when she was rail thin and fragile, in her 80s, she was exhausting to be with, as I witnessed doing election monitoring with the Carter Center in Mozambique and Liberia.
Raised a Methodist, she became a Baptist when she married Jimmy. The Carters left the Southern Baptist Union in 2000 when it announced women would no longer be allowed to be pastors. He and Bill Clinton went on to found the New Baptist Covenant organization to promote social justice issues. As Carter said when he accepted the Democratic nomination in 1976, "Love must be aggressively translated into simple justice."
I treasure the memory of an evening when we organised a fundraising dinner in London. We were told we would only have the carters for 15 minutes, at the pre-dinner drinks. In the event they stayed all evening, working the room and persuading people to join their work. At dinner, Jimmy sat at one end of the table and Rosalynn at the other, beside me. The former president got to his feet, giving us a tour-de-force summary of world politics and the work of the Carter Center. But Rosalynn kept interrupting to add something he had missed. He would sink to his chair, surrendering the floor to her, and then he would resume his speech when she had finished. It was like watching a tennis match between two people who perfectly complimented each other's skills. No wonder their marriage lasted for 77 years.
Mrs Carter raised a family of four while keeping the books of the family peanut farm and campaigning for her husband as he entered local and then national politics. She was a child of the Depression, and she had known real poverty, and the loss of her father when she was only 13 years old. She never lost sight of what it was like to be poor. She also had no interest in trivia like fashion or fancy parties. Her eyes were always on the mission she shared with her husband. She was the most political First Lady since Eleanor Roosevelt, and she leaves a remarkable legacy.