'Participation of women in Church - especially in leadership - a sign of the times'
---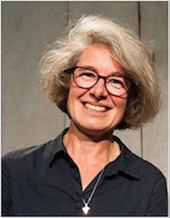 Source: NBCW

Sr Nathalie Becquart XMCJ, Undersecretary of the Office of the Synod of Bishops, gave an exclusive interview to the National Board of Catholic Women, to coincide with a recent ecumenical symposium organised by the Centre for Catholic Studies at Durham University.
On the eve of the symposium, Sr Nathalie delivered the CCS's annual Bishop Dunn Memorial Lecture. Her talk explored the essential interrelationship between Ecumenism and Synodality.
Speaking to NBCW, Sr Nathalie said that "since the beginning of the [synodal] process, with this broad listening from the grassroots in all the dioceses, countries and bishops' conferences, one of the main topics that came from everywhere is about the participation of women.
"It's really, we can say for today, a sign of the times. It's a common call to give more women participation and especially also to involve more women in the leadership of the Church, in decision making."
The two-day symposium in June, 'Learning Together on the Way', focussed on Synodality and Receptive Ecumenism - asking what the Catholic Church can learn from the understanding and experience of the Western Christian traditions as it seeks to become a more synodal church.
Along with Porticus International, the Diocese of Hexham and Newcastle, the Catholic Bishops' Conference of England and Wales and the Newman Association, the National Board of Catholic Women was a core co-sponsoring body for the symposium and was well-represented at it.
The event was hosted by Prof. Paul D. Murray and Dr Gregory Ryan and was built around pre-circulated briefing papers by theologians and leaders from six Christian churches with strong history and presence in England and Wales.
Nearly 140 participants from across these traditions and the English and Welsh Catholic Church shared in the small-group discussion process that lay at the heart of the symposium and likewise contributed to the plenary reflections. These sessions were held around Durham - at the University, at Ushaw College and at St Cuthbert's Catholic Church.
See NBCW's video interview with Sr Nathalie Becquart here:
https://drive.google.com/file/d/1G9vHvPxaGc85C9Sx5uy1gUCDDNU7-frt/view?usp=sharing