Kenya: Shalom Centre, Tangaza University College sign MoU
---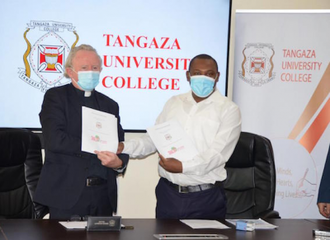 Tangaza University College (TUC) and Shalom Centre for Conflict Resolution and Reconciliation (SCCRR) - both located in Nairobi - have signed a Memorandum of Understanding (MoU) to facilitate the sharing and exchange of information and expertise in the field of conflict transformation, peace building and reconciliation.
The Shalom Centre was set up by Irish missionary, Fr Patrick Devine SMA, in 2009, and has established itself as a world-class institution in conflict resolution and peace-building. Tangaza College acquired university status last year and hosts the academic course on Conflict Resolution and Reconciliation under the tutorship of Fr Devine PhD and Fr Oliver Noonan SMA, Executive Director of Shalom.
The MoU aims to enhance the ability of both partners to undertake research and to connect the perspectives of all those who seek to contribute to these processes: leading researchers, experienced practitioners, policy makers, religious leaders and politicians. It provides an environment to support research, the pursuit of sustainable peace and development, through focusing on the underlying causes of conflict, truth, social justice and mercy.
At the core of the MoU is the recognition of the inseparability of social justice from sustainable processes of conflict transformation and of peace. Both partners are committed to engaging with vulnerable communities, building capacity for improved approaches to conflict management, and collaborating in initiatives such as problem-solving workshops. The MoU provides a context for the development of common interests and sharing of networks to the benefit of both organisations. It will develop and facilitate sustained cross-disciplinary and cross-cultural collaboration in research, education and training.
The partners will exchange details of their training and educational programmes. Shalom-SCCRR will second qualified staff, when possible, to offer relevant courses in TUC. Both institutions will explore the possibilities for developing a more substantive relationship, eg a Shalom-SCCRR institute in TUC, introductions and relationship development with other third level institutions around the world. They will host staff exchanges and, if feasible will facilitate placements for students as part of their programme of study.
TUC and SCCRR will share networks and facilities in the promotion of world class research into conflict transformation. Both partners undertake to promote the research of the other partner and to assist with the dissemination of research publications and other outputs through co-operation in joint workshops and conferences.
Fr Devine has been involved with Tangaza College for over 25 years as board member, vice chairman, lecturer, and more recently as a member of the university council. He said: "Shalom has been offering a course here in recent years, and we are very close in our unity of purpose. This MoU will bring our organisations onto a new relationship level and we look forward to growing and advancing together."
Prof David Wang'ombe, Vice Chancellor of TUC, said community engagement will be very important for the college. "There are quite a lot of conflicts of one form or the other in our community and I think they would seek out someone with authority and knowledge to help them out of these conflicts. Tangaza and Shalom Centre have experience in this field. We will support you internally, as well as in the empowerment of the people we release into the society by ensuring they have the right tools to deal with the kind of problems they are going to face" he said.
Judith Otsieno, Lead of The Social Empowerment Institute Addressing Violence against Women and Children, said the new institute is a high priority within the structure of the Shalom Center for Conflict Resolution and Reconciliation's vision, mission and interventions. "We have worked intensively with women in Northern Kenya and currently the urban slums in Nairobi in journeying with them, and building their skills and knowledge in designing conflict resolution models in their communities. Over the years I have also taught here in Tangaza, a module on Women and Conflict - victims and perpetrator as part of the Shalom-SCCRR course. At the institute, we recognise that education is one of the most critical areas of empowerment for women in conflict transformation, especially in societies caught up in inter-ethnic and inter-religious conflict and gender inequalities that are deeply rooted in the patriarchal norms and unbalanced power relations that exist in Kenya. As an Alumni of Tangaza University College, I am happy about this MoU."
This MoU is a further step in the growing academic recognition and public profile of the Shalom Centre for Conflict Resolution and Reconciliation. It already has MoUs with The Edward M. Kennedy Institute for Conflict Intervention at Maynooth University in Ireland, with The Senator George Mitchell Institute for Global Peace, Security & Justice at Queen's University, Belfast in Northern Ireland, and with the Intergovernmental Agency for Development (IGAD) covering eight countries in Eastern Africa.
Matt Moran is a writer based in Cork in Ireland. Author of 'The Legacy of Irish Missionaries Lives On' and 'The Theology of Integral Human Development', he is currently working on a book on 'The Cultural Colonisation of Africa by the West'.
LINKS
Shalom Centre - https://shalomconflictcenter.org/
Tangaza University College - https://tangaza.ac.ke/