Brazil's bishops: We cannot be silent when life is threatened, justice corrupt
---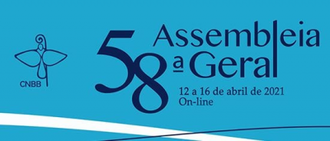 Source: CNBB/Fides

As the covid crisis in Brazil reaches catastrophic levels - with more than 4,000 death every day last week, while the government continues to play down the crisis, refusing to order a lockdown or provide more healthcare, the Bishops' Conference of Brazil (CNBB), issued a powerful statement at the end of their General Assembly, held online from 12 to 16 April,
They said: "Brazil is experiencing the worsening of a serious health, economic, ethical, social and political crisis, exacerbated by the pandemic, which challenges us, highlighting the structural inequalities rooted in Brazilian society. Although everyone is suffering from the pandemic, its consequences are most devastating in the lives of the poor and weak. This reality of suffering must echo in the hearts of Christ's disciples. Anything that promotes or threatens life affects our mission as Christians. Whenever we comment on social, economic, and political issues, we do so on the basis of the gospel. We must not remain silent when life is threatened, rights are not respected, justice is undermined and violence is spread."
The bishops say: "We are Pastors and our mission is to take care of you. Our hearts suffer from the limited possible participation of God's people in church services. However, the sanctity of human life requires wisdom and responsibility from us. Therefore, at this moment, we must continue to adhere to the necessary health protocols when celebrating church services".
The bishops thank the families who call it a privileged place "for the experience of faith and solidarity" and the parishes who have promoted the experience of the domestic church through various initiatives. "United in prayer and caring for life, we will overcome this moment", the bishops encourage the people.
They urge country's politicians to govern Brazil on the basis of the constitution, which guarantees health as the "right of all and the duty of the State". "Speeches and attitudes that deny the reality of the pandemic, ignore health measures and threaten the democratic rule of law are therefore unacceptable", warn the bishops.

They call for "greater investment in public health and the care of the sick, the maintenance and strengthening of the unified health system".
Public policy must also guarantee access to education, implementing the global educational pact proposed by Pope Francis. The bishops express concern about the diverse forms of violence in society, about disinformation and hate speech, especially via social networks and about the abuse of religion as an instrument of political debate.
The bishops also express their concern for the common home and reaffirm the need to overcome social inequalities in the country and to promote better policies "that are not subordinate to economic interests but are guided by fraternity and social friendship".

Their statement ends with an emphatic appeal "to the unity of civil society, churches, corporations, social movements and all people of goodwill around the Pact for Life and for Brazil. With renewed commitment, we must launch concrete initiatives to promote solidarity and exchange."