Pakistan: Christian family of man accused of blasphemy go into hiding
---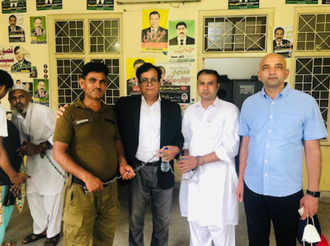 Source: Release International

The wife and family of a Pakistani Christian have had to go into hiding after her husband Asif Pervaiz was sentenced to death for blasphemy. Marilyn Asif and her four young children have had to flee for their lives after her husband was falsely accused of sending blasphemous text messages.
Asif, who's 37, has already spent seven years in jail after a blasphemy case was filed against him in 2013. He was given the death penalty on September 8.
The case against Asif was brought after the Christian refused to take part in Muslim prayers at his factory or convert to Islam.
Asif lost his phone, which was used to send a so-called blasphemous text message to his supervisor at work. Asif believes the text was actually sent by his accuser to incriminate him.
Asif's wife is now fearful for the safety of her children. A partner of Release International, which supports persecuted Christians, said: "She is in hiding because she feels threatened. She is trying to keep her three sons and daughter safe."
The case has echoes of that of Asia Bibi, who languished in jail for eight years awaiting the death penalty before her lawyer had the case thrown out by the Supreme Court. A price was put on Asia Bibi's head and her family were driven into hiding.
After the Supreme Court overturned the verdict, mobs brought cities to a standstill, calling for the army to mutiny and overthrow the government. After Asia was released, she and her family had to leave the country.
Asif Pervaiz has the same lawyer as Asia, Saif ul Malook, a Muslim who has risked his life to defend Christians.
Release partners in Pakistan supported Asia and are now helping Asif and his family.
"Pakistan's notorious blasphemy laws are often used to target individuals and take out rivals," says Paul Robinson, CEO of Release International. 'A disproportionate number of Christians have been charged.
"Even the unjust accusation of blasphemy can result in extensive legal action and vigilante attacks - as in the Asia Bibi case. Mobs called for her death and assassins murdered key Pakistani politicians asking for a review of the blasphemy laws.
"Release has long called for the repeal of the blasphemy laws in Pakistan."
Through its international network of missions, Release International is active in some 25 countries around the world, supporting pastors, Christian prisoners and their families; supplying Christian literature and Bibles, and working for justice.