Syria: New 'calm' draws Christians to Homs
---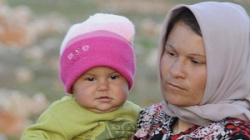 Hundreds of Christian families determined to stay in Syria have moved to Homs, close to where some of the conflict's worst violence has taken place. Melkite Greek Catholic Archbishop Jean Abdon Arbach of Homs said that significant parts of the city and the surrounding area are now "calm" but went on to warn of oppression of Christians in the rebel-held north of the country.
In an interview with Aid to the Church in Need, which has prioritised emergency help for Syria's faithful, the archbishop said 20,000 Christians now live in Homs itself and altogether 200,000 in the region. He said that 600 families from outside Homs were now living there and that the area was home to many thousands of Catholics.
The archbishop added that, of Homs' 21 districts, at most five were now held by the rebels and that conflict was restricted to certain areas, such as the Old City. He said: "We Christians are living in fear. The future is uncertain but we want to stay in our homeland."
Speaking during a visit to ACN's international headquarters near Frankfurt, Germany, the archbishop, a 61-year-old native Syrian, said: "The situation in and around Homs is calm. Government troops have almost complete control over the region and the rebels control four or five districts. The main fighting is taking place in the cities of Yabroud and Hama."
Archbishop Abdon Arbach stressed that he and other Church leaders were determined to stay with their people. He said: "For the faithful, it is important that their priests and their bishop bear the suffering and persevere like anyone else."
But he went on to warn of trouble ahead for Christians in northern Syria forced to comply with Shari'a Islamic law rigorously enforced by extremists. He said: "Firstly, Islamic law is to be applied. Secondly, all Christian symbols, which are publicly visible, are to be destroyed and thirdly, Christians who wish to remain will in future have to pay a special tax."
These are the terms spelled out by organisations such as the Islamic State of Iraq and al-Sham (Isis), which have required Christians and other minorities living under their rule to pay up to £435 per year in Jizya tax.
Archbishop Abdon Arbach's comments come as fellow Melkite Greek Catholic Damascus-based Patriarch Gregorios III led calls for the release of bishops and other clergy, many of them kidnapped in rebel-held territories in Aleppo and elsewhere in northern Syria.
In a statement released following the recent Assembly of Catholic Hierarchs (Bishops) in Syria, Patriarch Gregorios singled out for special mention kidnapped Aleppo Archbishops Youhanna Ibrahim and Boulos Yizigi as well as Fathers Michael Kayyal and Ishaq Mahfouz.
Stating that 100 Syrian churches now lie damaged or destroyed, Patriarch Gregorios stated: "We declare our rejection of all forms of extremism, murder and extortion and all attacks on people and buildings."
In making his comments, the Patriarch was reflecting renewed hopes following the release on Sunday (9 March) of 13 Sisters kidnapped last December from their Greek Orthodox monastery in the mainly Christian town of Maaloula, 40 miles north of Damascus.
Both Patriarch Gregorios and Archbishop Abdon Arbach praised Aid to the Church in Need for its support for Christians and others from Syria since the conflict broke out three years ago.
The charity has provided ongoing emergency help – food, medicine, shelter – for thousands displaced within Syria as well as living as refugees abroad. Where possible, ACN has also continued with its pastoral work in the region – support for seminarians and Sisters, Christian education (catechesis) and Child's Bibles, and Mass stipends for poor and persecuted priests.
Archbishop Abdon Arbach said: "Aid to the Church in Need in particular has done much to ensure that we can regularly support many families, the parishes and the priests."
Source: ACN