Religious orders to lobby parliament urging MPs to end global hunger
---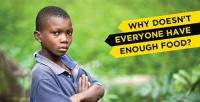 Hundreds of members of religious orders, priests and lay associates are preparing to meet their MPs on Wednesday 15 May to push for action on global hunger in a mass lobby organised by CAFOD as part of the Enough Food for Everyone IF campaign.
The monks and nuns, many of whom have lived and worked in developing countries, will raise with politicians the reasons why one in eight people worldwide go hungry, and challenge them to take action.
The lobby comes in the lead-up to the G8 summit which is held in the UK only once every eight years. This year, the Enough Food for Everyone IF campaign, of which CAFOD is a founder member, is bringing together over 170 development and faith-based organisations to call for action to tackle global hunger when G8 leaders meet in Northern Ireland this June.
Sister Pat Robb CJ, one of the lobby's organisers, said: "I believe that we are given gifts by God to share, not to use selfishly for ourselves. It's an appalling scandal that there's so much hunger in the world. I've worked as a nurse in refugee camps and have seen many children with malnutrition and adults dying from starvation.
"Big demonstrations, like the religious lobby and the rally planned for 8 June, make the government acknowledge that people from all backgrounds have a voice, that they're prepared to take part and that the world is watching. We hope and pray that our politicians will not just listen to us, but will act to defend the poorest and most vulnerable in our world. As long as one person is still hungry, our work is not over."
This lobby is also supported by JPIC Links (Justice Peace and Integrity of Creation), the Africa Europe Faith and Justice Network (AEFJN), the Conference of Religious (COR), Progressio, Trocaire, Church Action on Poverty and SCIAF.
CAFOD campaigns coordinator Maria Elena Arana said, "Members of Religious orders speak with authority and politicians recognise that. They've shown their influence before during Make Poverty History and the Climate Justice campaigns, we're inviting them to do so again. We live in a world where two million children die of malnutrition each year, what could be more important than doing what we can to make 2013 the beginning of the end of global hunger?"
Archbishop Desmond Tutu has also added his support to the IF campaign.

He said: "Many decades ago, hundreds of thousands of British people joined the anti-Apartheid campaign. The same campaigners came together after Apartheid was dismantled to demand the cancellation of developing countries' debt, and again in 2005 to demand poverty was consigned to history.
"They have also worked tirelessly for more than 40 years to realise the promise made by the wealthiest countries to spend 0.7 per cent of national income on aid.
"Looking at the hundred or so charities across Britain that have joined together for this campaign, I recognise veterans of the struggle against apartheid and debt - Oxfam, Christian Aid, CAFOD and many more - some inspired by their faith, some by their compassion - all driven by their steadfast refusal to accept the status quo of poverty and hunger in the 21st century.
"The Enough Food for Everyone IF campaign knows that - to tackle the root causes of hunger - aid alone will never be enough; we have to knock down the Jericho Walls of the global systems that are keeping people poor."

Enough Food for Everyone IF is a coalition of more than 170 organisations which have joined together to campaign for action by the G8 on the issue of global hunger. The last time we worked together at this scale was for Make Poverty History. Now that the G8 group of world leaders are returning to the UK, we are demanding they take action on hunger.

Enough food for everyone...
IF governments keep their promises on aid, invest to stop children dying from malnutrition and help the poorest people feed themselves through investment in small farmers.

IF governments stop big companies dodging tax in poor countries, so that millions of people can free themselves from hunger.
IF we stop poor farmers being forced off their land, and use the available agricultural land to grow food for people, not biofuels for cars.

IF we force governments and investors to be honest and open about the deals they make in the poorest countries that stop people getting enough food.
TIMETABLE
Pre-midday: Lobby participants and helpers gather at Westminster Central Hall, London

12pm: Service & briefing at Westminster Central Hall (WCH) including participation from priest and Dominican friar Timothy Radcliffe and CAFOD director Chris Bain

1.15-1.30pm: lobby processes across Parliament Square to Houses of Parliament

1.30-3.30pm: lobby meets with MPs in Westminster Hall

3.30pm: lobby returns to WCH for final speeches, including from Sr Gemma Simmonds

4pm: day's event ends
To sign up to join in the lobby and for more information see:
www.cafod.org.uk/News/Campaigning-news/IF-Religious-lobby