Pushkin - More Tails of that Oratory Cat
---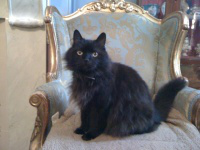 Last year, a highlight of the Papal visit was the encounter between Pope Benedict XV1, a noted cat lover, and Pushkin, the Birmingham Oratory Cat. My story, recounted on Independent Catholic News,circulated the world.

Eleven-year-old Pushkin, who resides in Blessed John Henry Newman's former home, knows that he is a very special cat and is bestowing his favours upon a waiting world by publishing his memoirs, Pushkin the Pontifical Puss : Tails of an Oratory Cat, through St Pauls Publishing. There is a strict embargo on its content until the book launch on 21 November in Pushkin's' home territory.

However, it can be revealed that a royal personage will be present who is a devoted fan of the enigmatic feline and wrote a Foreword for the book. HRH The Princess Michael of Kent, who owns a Siamese and Burmese, met Pushkin in 2008 when she attended the opening of Newman's shrine at the Oratory. He has been a significant friend on her Christmas card list ever since. Pushkin refers to her as "She who wears diamonds". The princess has a special interest in embroidery and will be shown a selection of 16th century vestments in the sacristy. She will be afforded a private tour of the Oratory and see a display of their treasures,including Newman's chasuble, before renewing her acquaintance with the Papal Puss.

In an exclusively interview, speaking on Pushkin's behalf his PA, Fr Anton Guziel, said that the supremely intelligent puss responded to Russian,German, Polish and English. "He especially responds to the words "brush" and " treats," provided the R's are rolled.",he said in mellifluous tones. Naturally Pushkin adores the attention of grooming and his favour being sought with a tasty morsel.

The book recounts their life together, the extraordinary meeting between the black, fluffy feline and "He who wears white" which made world headlines, and much ,much more."He has gained hairs and graces, from Papal and royal attention",added Fr Guziel, " You have to understand that for Pushkin it is a matter of noblesse oblige."

Apparently there is also a correspondence between the Carmelite nuns at Wolverhampton, who have cats, so Pushkin prevailed upon them to illustrate his book.
According to Fr Guziel, Pushkins' taste buds are very particular; he turns his infinitely superior nose up at fish, preferring to feast upon raw kidneys, providing that they are not lamb. He is also partial to an energising chicken meal by a certain well known cat food manufacturer!

Pushkin has graciously decreed that royalties from the sale of his autobiography will go towards repairing the Oratory roof and floor which suffered flood damage last year, as well as restoring the mosaics over the altar . There may be an element of self preservation,vas a celebrity cat of Pushkins' finesse cannot be expected to live in damp and damaged surroundings.

Fr Guziel and Stephen Moseling, Publishing Director of St Paul Publications, promise some surprises at the book launch, including a very special entertainment.

Pushkin will reveal all on 21 November.