Holy Land: Children's stories from Hebron
---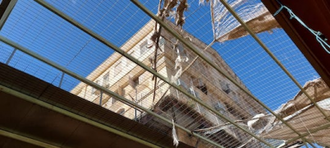 Source: EAPPI

Today, on Children's Day, we share the testimonies of children across Hebron in the West Bank about how the military lockdown and intensifying violence across Palestine has impacted their lives.
Once the war started [Israeli soldiers] closed all the checkpoints in our area and life became totally like a prison. We are prevented from going out to go to our schools and to play around with our friends and neighbours.
I miss my school and my classmates and now we are starting the mid exams, we cannot take them in school. We are feeling choked by the Israeli rules to stay home.'
Abed, aged 12, Tel Rumeida, Hebron
The lockdown placed on the West Bank since the 7 October has intensified the many restrictions that already existed in the H2 area of Hebron, where Palestinians and Israeli settlers live in close proximity. Long before the war began, movement restrictions, arrests and detentions were a threat to childhood here. Each year, up to 1000 Palestinian children, some as young as 12-years-old, are detained and prosecuted in the Israeli military court system. The most common charge is stone throwing, but some are also held without charge or trial under a system known as 'administrative detention.'
We first visited the Sider family in April of this year. Their home is just off a busy market street in Hebron. Their courtyard, where a Palestinian flag was jauntily painted, is sealed with wiring fencing to protect them from attacks by Israeli settlers living next-door in Beit Hadassah settlement. As we walked into the courtyard, we could hear settlers with American accents through the wire fencing above. The family told us how they were harassed by their neighbours who threw down bottles and rubbish. On one occasion a few years ago, the settlers threw a highly poisonous snake. Nobody was hurt during this incident and the snake, now preserved in a jar, sits as a symbol of resilience in the family's living room. They told us that they felt like everything was being done to push them to move away. At one point, they were given a blank cheque and told to write whatever they wanted for the home, but they refused.
The family now fear that their children are being deliberately targeted. Their two sons have been imprisoned in Israeli juvenile centres and their ten-year-old niece was detained by Israeli soldiers, when the neighbouring settlers accused her of wielding a knife.
When we visited their office in Ramallah, a staff member of Defence of Children International - Palestine (DCI-P) explained that;
'the vast majority of children [detained by the military] live or go to school close to an Israeli settlement in the West Bank.'
Read more eyewitness stories here: https://eyewitnessblogs.com/childhood-imprisoned/
EAPPI UK & Ireland shares the eyewitness stories of Palestinians and Israelis and advocate for justice, equality and an end to the military occupation of Palestine. EAPPI UK & Ireland is managed by Quakers in Britain. They work with other churches and human rights groups around the world as part of the World Council of Churches' international EAPPI programme.
See also Vatican report: 'Choosing children over war'.