Not Superheroes, but Neighbours - World Day of the Poor feature
---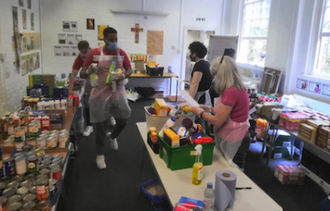 Source: Caritas Westminster

For World Day of the Poor, Sunday 19 November, Caritas Westminster is showcasing the work of the many volunteers at the food bank at the Sacred Heart Church in Holloway - and to highlight in particular the teenagers who regularly give their time - as the Pope says, in his message for World Day of the Poor, "They are not superheroes but 'next door neighbours'"
Volunteer Paul Nunn has written this short history celebrating all the foodbank has achieved since 2020.
Covid-19 changed the world - even Holloway. We all locked ourselves down, and the vulnerable and elderly were instructed to shield. We started with deliveries of food parcels to those who were shielding, thanks to donations of time and money from parishioners and food vouchers from Caritas Westminster, and with the support of our Parish Priest. This quickly expanded by January 2021 to setting up a foodbank, with funding from the London Borough of Islington and the Diocese of Westminster Cardinal's Appeal.
The Foodbank operated every other Saturday morning giving out non-perishable food, household cleaning stuff and toiletries to anyone who came. More than 40% came from the postcodes nearest us, and the rest from all over London, mainly from the North and East. Soon we had over 20 families coming for each session, which rose steadily, and has continued to increase. Now we regularly see over 100 families each session, and recently we have topped 120. Choice is important, so our clients can choose up to 15 items from our total list of about 40.
To read on see: www.caritaswestminster.org.uk/not-superheroes-but-neighbours-1576.php
LINK
Caritas Westminster: www.caritaswestminster.org.uk/