Only Christian hospital in Gaza surrounded by tanks
---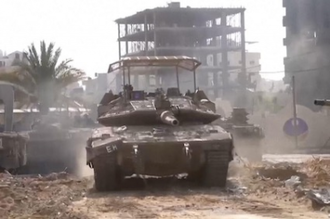 Rev Don Binder, Canon Pastor at St George's Cathedral, Jerusalem posted this urgent message and picture. on social media yesterday:

"Just after sunset today, the Red Crescent reported that Israeli tanks had surrounded our Ahli Anglican Hospital, placing it under military seige.
Hundreds of patients and staff are presently trapped inside.

As the only Christian hospital in Gaza, Ahli was the last functional hospital in Gaza City over the past five days. Now, the hundreds of newly wounded who were previously being brought into its medical wards each day literally have nowhere to go.

They are being left to die in the rubble.

If you are in a position of political power or have connections to those who are, please appeal through them to the world leaders, especially President Biden, to demand that this siege be lifted immediately!"
The Ahli Anglican Hospital located in the Zeitoun neighbourhood in the south of Gaza city, is managed by the Episcopal Church in Jerusalem. Founded in 1882, it is one of the oldest hospitals in the city. It is the only cancer hospital in Gaza.