Daily Prayers for the Coronation of King Charles III
---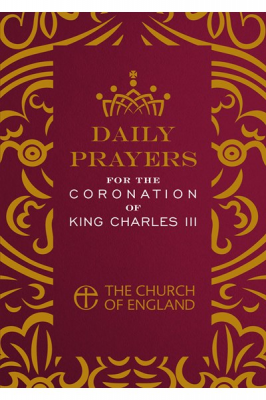 The Coronation of King Charles III will be celebrated by countries across the globe in a historic Service led by the Archbishop of Canterbury Justin Welby at Westminster Abbey, London on May 6 2023.
To help prepare for the occasion the Church of England has created a beautiful Easter booklet of daily prayers beginning on Easter Sunday and lasting for the 28 days leading up to the Coronation on May 6.
The book of Daily Prayers for the Coronation of King Charles III contains Scriptural passages, reflections and prayers on various themes relating to King and his role as monarch. Themes range from Servant Leadership, embodied by Christ and the monarch, to Fruits of the Holy Spirit: love, joy, peace, patience, kindness, generosity, faithfulness, gentleness and self-control.
Each page is carefully thought out and succinctly captures the beauty and uniqueness and universal qualities of the many various aspects of the Kings coronation.
King, family, nation and world are given consideration. Humility, constancy, love and the common good are also touched upon, and the material aspects of the coronation such as the Abbey, anointing oil, regalia, and the symbolism of the crowning.
There is mention that there will be challenging as well as joyful aspects of the King's reign. These are carefully and sensitively weighed against the many reflections on the exemplary reign of the King's late mother Queen Elizabeth II which was largely a triumph of her wisdom, constancy and good will, emanating outwards from the heart of her faith-life, to her family, to the nation and into the world.
References to the Holy Spirit are interwoven throughout the book, reminding readers to seek the spirit of goodness in thought, word and deed and thus be an instrument of peace and harmony in their communities. The special place of His Majesty's Queen Consort is given prayer that she may be a strength, comfort, counsellor and companion to the King.
Altogether this book is a beautiful keepsake, a powerful resource, and gently formative spiritual guide petitioning God in preparation for what promises to be an incredibly poignant moment in a new chapter in the story of our nation and our world.
Ahead of the Coronation, Cardinal Vincent Nichols gave this message in his loyal address King Charles III: "Your Majesty, as you approach the solemn moment of your Coronation, and in all the kingly service that you will continue to give in the years to come, I assure you, with great confidence, of the support and prayers of the Catholic community in England and Wales. May God bless Your Majesty and your Queen Consort, preserve you both in health of mind and body and grant you every grace and blessing now and for the years to come."
For more information and to order the book see: www.chpublishing.co.uk/features/coronation-prayers
Daily prayers will also be available online from Easter Sunday up to the day of the King's Coronation, here: www.churchofengland.org/coronation