"Devastating" reports of asylum seeker children going missing
---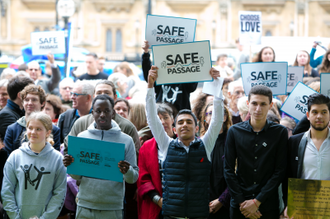 There are shocking reports this week that unaccompanied children seeking asylum are being abducted in their dozens from Home Office hotels - particularly one in Brighton - where they had been placed. The vulnerable children are in the UK without parents or carers.
A UK Home Office Minister admitted on Monday that 200 asylum-seeking children have gone missing. This was described by the refugee organisation, Safe Passage, as "devastating. It said: "Home Office negligence is putting children's lives at risk. This has been going on for far too long. Children seeking sanctuary in the UK, having fled war and persecution, urgently need care and protection."
Lord David Alton of Liverpool asked in the House of Lords on Monday 23 January:
My Lords, is it not deplorable that over an 18-month period, some 600 unaccompanied children have disappeared from this hotel and some 79 are still missing? What can the noble Lord tell us about the fate and the plight of those missing children? What were their countries of origin? What safeguarding is now in place at that hotel? Most importantly of all, the noble Lord has said the use of such hotels will be phased out, so how long will that take?
Lord Murray of Blidworth (Home Office minister Simon Murray) responded:
I thank the noble Lord for his question. Clearly, the statistics he cited are not entirely correct. Let me put on record what they are.
The Department for Education collects data annually on the number of looked-after children in England, as well as missing, unaccompanied asylum-seeking children. The Home Office has no power to detain unaccompanied asylum-seeking children in those hotels, and we know that some of them go missing.
Many of those who have gone missing are subsequently traced and located, as I have already said. The numbers are as follows. Over 4,600 children have been accommodated in hotels since they were opened in July 2021. Of the 440 missing episodes - the term "episode" is used, as some children go missing and are then located but subsequently go missing again - all have been male save for four who have been female.
200 of the children remain missing, and only one of them is female; 88% are Albanian nationals and 13 are under the age of 16. The average length of stay in hotels for unaccompanied children is 18.23 days. I am afraid I cannot give an exact answer to the second part of the noble Lord's question, on how long it will be until we can phase out the use of hotels. Our hope is to phase them out as soon as we can.