Sunday Reflection with Fr Robin Gibbons - December 5th 2021
---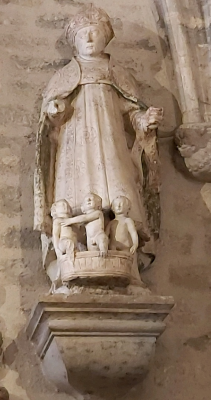 Second Sunday in Advent
More than ever I am aware that these dark grey days affect some people very badly, I suffer from SAD and it doesn't get better with age, if anything it's a fight against what the ancients called real melancholia, but come a sunny day and different light intensity and my mood lifts. But there are also forms of spiritual darkness, a heaviness the percolates our faith journey, sometimes even cutting right through to our roots, its dark, difficult and lonely because the very God we long for seems not to answer. Don't worry I am not going to give an exegesis on the Dark Night(s) of the Soul or indeed on the interplay between our psychology , health and faith life, but I recognise it is far more difficult to pray in these months of greyness, and the heaviness of certain issues hanging over our world does not make it any easier.
So just when I shrugged my shoulders and thought, what on earth am I going to share this week? These words from this Sundays' first reading from Baruch reached out to me , beautiful words, consoling words , here they are :
"For God is leading Israel in joy
by the light of his glory,
with the mercy and justice that are his."(Bar 5:9)
I was struck, perhaps a little more forcefully than I might have been, on account of a revelation from my own ancestral DNA. Like many I took the test (actually several to balance things out and help my siblings with family history). The result was actually quite simple, very NW European, strong ancient English with a twist of Gaelic Scots, a lot of Swiss-German-French, a dash of Viking and Hun, but the surprise was a significant amount of Ashkenazi Jewish origins on my maternal direct line. This is something I am assimilating , for suddenly it has given me a new link to the Jewish Communities of Europe, but also a sense of belonging with them as well, and into this mix it has highlighted some hidden depths in my Christian faith, which are beginning to tie deeper themes of my study, life and belief together.
No longer may I ignore the words of scripture when it speaks to the `Jewish people', no longer may I ignore what we have done to these peoples, for part of me belongs with them and as I said to my friend Canon Angela Tilby, it has given me a real sense of lineage with that family of Mary, the Mother of Jesus.
So these words of Baruch had a double meaning for me this season, despite all that the Jewish community has ever suffered, God who has promised them to be theirs, is leading them constantly, whilst for the Christian, through the Christ who has promised to be with us always, God is leading us all! That's the message, no matter what happens, that remains true. We may not see this, we may not feel it, but this does not mean it isn't taking place!
The Gospel echoes in a defiant way Baruch's strong refrain of joy-filled hope, shaking us out of any complacency of gloom. John the Baptiser, the cousin of Jesus, goes about preparing for the coming of the Light of Glory in a distinctive and unique way, Luke picks up Isaiah's prophecy and makes it John's message:
A voice of one crying out in the desert:
"Prepare the way of the Lord,
make straight his paths.
Every valley shall be filled
and every mountain and hill shall be made low.
The winding roads shall be made straight,
and the rough ways made smooth,
and all flesh shall see the salvation of God."
There it is again, that song of Baruch, in Isaiah, shouted out by John in Luke's telling -forth of his ministry, God is leading His people, but all peoples this time, not just a selection shall see salvation! So this week take courage, make these small simple words something to hold on to, may those who celebrate Chanukah find in them the true light of the Most High. For those who are Christian celebrating Advent and let us not forget St Nicholas, may they bring you close to the Holy One of Israel revealed in Christ our Saviour, and may all the feasts of this time bring light to our darkened world:
"God is leading Israel in joy
by the light of his glory,
with the mercy and justice that are his"
Maranatha. Come Lord, come.
Lectio Divina
Saint Nicholas - December 6th
Anne Frank, The Diary of a Young Girl
"Once again St Nicholas Day
Has even come to our hideaway;
It won't be quite as fun, I fear,
As the happy day we had last year.
Then we were hopeful, no reason to doubt
That optimism would win the bout,
And by the time this year came round,
We'd all be free, and safe and sound.
Still, let's not forget it's St Nicholas Day,
Though we've nothing left to give away.
We'll have to find something else to do:
So everyone please look in their shoe!?"
From a homily of Nicholas of Myra
"Children, I beseech you to correct your hearts and thoughts, so that you may be pleasing to God. Consider that although we may reckon ourselves to be righteous and frequently succeed in deceiving others, we can conceal nothing from God. Let us therefore strive to preserve the holiness of our souls and to guard the purity of our bodies with all fervour. You are the temple of God, says the divine Apostle Paul; If anyone defile the temple of God, them shall God destroy."
- St. Nicholas of Myra
From Rabbi Jonathan Sachs on Chanukah
When we live as Jews in private, filling our homes with the light of the Shekhina, when we live as Jews in public, bringing the light of hope to others, and when we live both together, then we bring light to the world.
There always were two ways to live in a world that is often dark and full of tears. We can curse the darkness or we can light a light, and as the Chassidim say, a little light drives out much darkness. May we all help light up the world.