India: Fr Stan Swamy SJ 'the caged bird can still sing'
---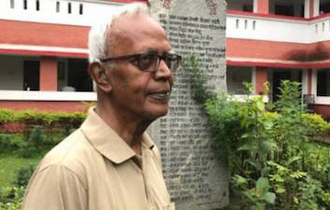 Source: Indian Jesuits/Fides

Jesuit Fr Stan Swamy has written a letter to mark the 100th day of his imprisonment in India on charges of sedition. In his message, the 83 year old priest who is suffering with severe Parkinsons, thanked his supporters and expressed concern at the treatment of his fellow prisoners.
Fr Stan wrote: "I deeply appreciate the overwhelming solidarity expressed by many people around the world, in these 100 days in prison.
"Sometimes the news of so much solidarity has given me immense strength and courage, especially when the only certain thing in prison is uncertainty."
Fr Stan is in custody with 15 other activists and NGO members, accused, under the "Unlawful activities prevention act", of terrorism and of complicity with the Maoist rebels. All were committed to peacefully protecting the rights of the Adivasis tribe in Jhakarland who suffer great discrimination and abuse from large landowners and multinational corporations.
Fr Stan said: "Another source of strength in these last hundred days has been to observe the difficult situation of the other prisoners in awaiting trial. Most of them come from economically and socially disadvantaged communities. Many of these poor people do not even know what charges have been brought against them and have never seen their indictment. They remain in prison for years, without any legal assistance. Overall, almost all prisoners are forced to live with the bare necessities, rich or poor. This condition creates a sense of brotherhood and solidarity in the community of prisoners: one learns that it is possible to support one another in spite of adversity."
Fr Stan concluded: "We 16 co-defendants cannot meet because we are housed in different prisons or in different departments within the same prison. But we will continue to raise our voices in the future . A caged bird can still sing."
In a video message released today, Father Arturo Sosa, Superior General of the Society of Jesus, said: "Father Stan dedicated his whole life to the poorest in the world, the indigenous Adivasi and the Dalits," said the superior general, "He is the voice of the voiceless. He has stood before the powerful and told them the truth, he is committed to defending the human rights of minorities".
The Society of Jesus is running an international campaign for Fr Stan Swamy's immediate release.
See a petition here: www.change.org/p/devendra-fadnavis-appeal-for-fr-stan-swamy