Glasgow: Archbishop Philip Tartaglia has died with Covid
---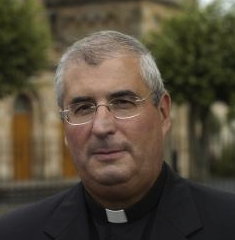 Source: SCMO

The Archbishop of Glasgow, Philip Tartaglia, has died suddenly at his home in Glasgow. He was 70 years old.
Archbishop Tartaglia, who had served as Archbishop of Glasgow since 2012, had tested positive for Covid-19 shortly after Christmas and was self-isolating at home. The cause of death is not yet clear.
The Archbishop had served as leader of Scotland's largest Catholic community since 2012.
The Pope's Ambassador to Great Britain, Archbishop Claudio Gugerotti has been informed.
It will be for Pope Francis to appoint a new Archbishop to succeed Archbishop Tartaglia, but until then the Archdiocese will be overseen by an administrator.
Following the death of Archbishop Philip Tartaglia, the President of the Bishops' Conference of Scotland, Bishop Hugh Gilbert has issued the following statement:
"It is with the deepest sadness that we have learned today on the Feast of St Kentigern (Mungo) of the death of our brother bishop and friend Philip Tartaglia. His loss to his family, his clergy and the people of the Archdiocese of Glasgow will be immeasurable but for the entire Church in Scotland this is a day of immense loss and sadness.
He was a gentle, caring and warm-hearted pastor who combined compassion with a piercing intellect. His contribution to the work of the Bishops' Conference of Scotland over the past sixteen years was significant and we will miss his wisdom, wit and robust Catholic spirit very much.
On behalf of the Bishops of Scotland, we commend his soul into the hands of God and pray that he may enjoy eternal rest."
Cardinal Vincent Nichols expressed his sorrow and offered prayers. In a statement this evening he said:
'I have learned with great sadness of the sudden death of Archbishop Philip Tartaglia. All of Scotland will be saddened and shocked by his death, sentiments shared throughout England and Wales, too. He, and his family, are much in our prayers.
'I have often enjoyed the warm hospitality of Archbishop Tartaglia and admired his pastoral sense and sharp mind. His leadership will be greatly missed.
'May his soul, and the souls of all the faithful departed, rest in peace and rise in glory. Amen.'