Film: The Camino Voyage + trailer
---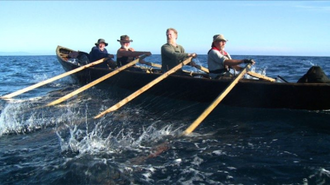 What happens when a writer, two musicians, an artist and a stonemason embark on the Camino by sea, in a traditional boat. An Irish film documentary captures their voyage as they make the journey to the famed pilgrimage destination.
The Camino de Santiago or Way of Saint James is a journey that has been attracting pilgrims for hundreds of years. You can walk, cycle or even ride on horseback on paths that lead to the Cathedral of St James. But embarking on the Camino by boat? This is lesser-known route.
An Irish film documentary, that has won praise at various European film festivals, recounts the journey of four men as they set sail from Ireland on an inspiring but at times perilous expedition to Northern Spain.
Boarding their boat known as a Naomhóg, which they built themselves, the documentary charts the path of the crew over three years from 2014 to 2016.
Modern home comforts are left behind as they set sail, but as the film shows, what they gain along the way are new friendships, strengthened creativity and renewed spirituality.
The Executive Producers of the film, Pádraig and Síle Ó Laighin were in Rome recently to talk about the film entitled, The Camino Voyage: an epic 2500km Modern Day Celtic Odyssey.
They came into the studios of Vatican Radio to discuss a documentary which they describe as accidental but also unique.
Síle explained that the film, "developed accidently", after an Irish language TV station heard about the project and thought it could be made into a documentary.
Hundreds of hours of film captured the events of the voyage which was edited down to the final cut which audiences get to see.
Síle pointed out that the film was "unplanned, there was no script, no casting, these are just friends who come from a very small area in the West of Ireland who decided to do the Camino together by sea."
Pádraig described how this sea voyage involved "lots of hard work and graft" as they rowed towards their final destination. Reaching that final point which was the Cathedral of St James was a very moving experience, he said. "The rowers carried the oars into the high alter of the Cathedral and there was a service there."
For Síle, making this film was an experience that "can't be repeated and I think that's what makes it unique."
Watch a trailer here: www.youtube.com/watch?v=VJ5S-ifzAQg
Read more about the film: www.anupictures.com/project/camino/