Review: Oranges and Ink ****
Christy Lawrance

(Updated )
---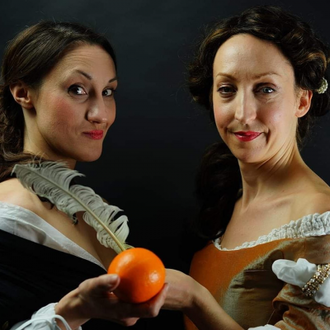 Restoration raunch and the Popish plot - Oranges and Ink at the Tristan Bates theatre, London
Oranges & Ink takes place in Restoration England, where the 'Popish Plot' - a fabricated Catholic conspiracy to kill King Charles II - was arousing anti-Catholic fervour.
Here, we meet Nell Gwyn (Sarah Lawrie), actress turned royal mistress, and Aphra Behn (Claire Louise Amias), playwright, England's first female professional writer and wartime spy. Surviving in a man's world, they are good friends.
The women are young and sexually liberated, and display much bawdy humour in both words and action. Both are a delight to watch, spirited and quick thinking while showing an intrinsic toughness, as shown when Lawrie's Nell Gwyn (fantastic comic timing throughout) defends herself with sharp wit when a baying mob call her 'the Catholic whore'. A powerful contrast to the raunchy humour is shown later in Behn's sincere, heartfelt monologue.
The dialogue is tight and fizzes along, keeping the audience engaged.
While highly entertaining, the script, delivered in Restoration-style language, draws on extensive research and a close attention to detail keeps the whole experience is convincing. Indeed, audience members are taken back in time before the play even starts with a handbill-style programme the shade of parchment sporting old-fashioned language and typography. The atmosphere is made complete with music designed to fit the time, complete with a lute, and subtly changing light.
This is a highly entertaining show, packing a lot into one hour, which leaves you wanting to find out more about both these remarkable women who were living in extraordinary times.
For more information see: www.tristanbatestheatre.co.uk/whats-on/oranges-ink