Italy: Campaigners protest against Bannon plan for political training programme in monastery
---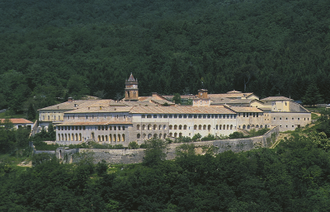 Hundreds of protesters gathered outside a medieval monastery near Rome over the weekend, to voice their opposition to plans by former Trump advisor Steve Bannon, to open a training programme there for conservative Catholic political activists across Europe.
The man who masterminded President Trump's election success says he wants to revitalise Europe's Catholic roots at the Trisulti monastery, but critics say his links to far right movements are far from Christian.
One Italian MP described the Dignitatis Humanae Institute project as a "fundamentalist academy". Several local residents are also unhappy about the Institute's arrival in their village. The new occupants are charging locals five Euros to enter the monastery.
In November, Bannon told Reuters he was planning to spend "80-90 percent" of his time in Europe building up his populist movement that will support far-right parties in the forthcoming European Parliament elections.
Cardinal Raymond Burke is president of the Institute's board of advisers.