Churches and finance experts find common ground on fossil fuel divestment
---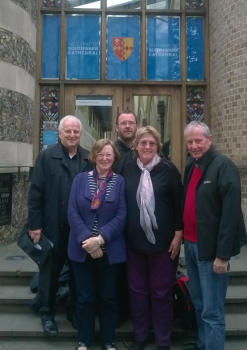 Church moves to disinvest from fossil fuels, shareholder action on extractive industries, and the call by Pope Francis in Laudato Si' for an energy transition from fossil fuels have all been credited by financial sector experts for helping move them in the direction of sustainable development.
The experts were gathered at Southwark's Anglican Cathedral on 6 October for a day, titled 'Investing sustainably: Protecting financial assets and supporting the transition to a zero-carbon future'. They met with representatives from several Christian denominations, including Catholic, Church of England - particularly a number of their diocesan environment officers - and the Methodist and United Reformed churches. The event was jointly organised by The Climate Change Collaboration, Operation Noah and Quaker Peace & Social Witness. The Bright Now Campaign of Operation Noah particularly works towards fossil free churches.
Sian Fergusan, of Sainsbury Family Charitable Trusts, reported that the trusts have been pushing for sustainable development for 25 years, and have supported renewable energy sources for several decades. For the past two years they have supported shareholder action at gas and oil company AGMs because "if we burned all the assets of the big extractive industries we would be heading towards a 4-6 degree warmer world". She lamented that many in the finance industry "still have problems accepting the science of climate change" and "the public perception that ethical investment is not cost effective". However, she appreciated the lobby of the divestment movement and noted that on 4 October seven Catholic groups based in five continents announced intentions to divest their financial interests from fossil fuels, the largest and broadest joint declaration to date within the church and the second such effort this year. Among them were the Missionary Society of St. Columban and the Jesuits of the English Canada province.
Pilita Clark, Environment Correspondent of the Financial Times, noted that investors are increasingly looking for industries with lower carbon footprints and that the sustainability sector is slowly growing. She acknowledged that, "we wouldn't be where we are without collective action, for example the fossil fuel divestment campaigns". She has noted church involvement in the divestment movement and the challenge to fossil fuels in the Pope Francis encyclical Laudato Si', as well as pointing out that "the world still largely runs on fossil fuels".
John McKinley of Blackrock, which manages $200 billion of assets reported that, "investors can no longer ignore the risks of climate change". His company was looking to investment in low carbon initiatives and water initiatives which reduce consumption. Clients have sometimes requested investment aligned with the UN's Sustainable Development Goals. James Bevan, Chief Investment Officer of CCLA, one of the UK's largest fund managers, reported that they are also promoting investment in new, low carbon technologies and "solar and renewables are now competing actively". He told the Church activitists present that investors "need to be wary of old style oil and gas" and "we need your help in showing that fossil fuels emissions are challenging the viability of life on this planet". John David, Head of Investments at Rathbone Greenbank with £780 million of funds under management, said it was increasingly negative towards investment in oil, gas and large-scale mining, being "totally dedicated to considering the ethical, social and environmental background".
Catholic involvement in the event included the Columban missionaries, Passionists and Fr Séamus Finn OMI, Chair of the US-based Interfaith Center on Corporate Responsibility and an expert on faith-based investment and social responsibility.
The keynote speaker for the event was Bishop Richard Cheetham, Bishop of Kingston and member of the Church of England's Environmental Working Group at national level. He quoted extensively from Laudato Si', suggesting that the autonomy of economics and the obsession with endless growth, along with consumerism, "is incompatible with finite natural systems". He echoed the call of Pope Francis for "ecological conversion" and was concerned that now the Paris climate agreement has been ratified popular opinion may feel that in terms of climate change "the job is done". He felt investors must look more to the long term and ask about environmental impact assessments, adding that "Church investors can be a catalyst in this enormously important area".

For more information see: http://brightnow.org.uk/