Salford: Faith schools will combat Islamophobia, says Bishop Arnold
---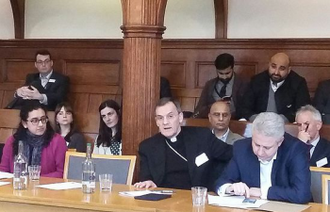 Bishop John Arnold of Salford Diocese has championed faith schools as a way to help Muslims to integrate into British society. He was speaking at the Citizens UK commission on 'Islam, Participation and Public Life', hosted at Manchester University Whitworth Hall on Monday.

The event was part of a chain of similar hearings run by Citizens UK in major UK cities. It saw speakers from a range of backgrounds and faiths meeting to explore and discuss major issues and policies affecting British Muslim communities.

Citizens UK organises communities to act together for power, social justice and the common good. They hold politicians and decision makers to account on the issues that matter to its members.

Some of the topics under scrutiny at the event included policing, counter-terrorism legislation and Islamophobia; the role of Faith in Public Life; and the relevance of Secular and Religious Education in interfaith community cohesion.

Bishop Arnold stressed the important role that faith schools play in promoting inter-religious dialogue and integration. "From a Catholic viewpoint, we're duty-bound by our ethos to welcome other cultures and foster understanding. As Pope Francis would say, it's about putting faith into action. Christians and Muslims share a lot with the other Abrahamic faiths, and it's important that our schools encourage children to share these beliefs."

He cited the historical precedent of Irish Catholic communities migrating to Manchester in the 19th Century. He reminded those present that it took time for Irish migrants to be accepted, but that their contribution to the community meant that they were eventually able to integrate fully. He expressed his conviction that, through the work of faith schools, a similar acceptance and greater cohesion could continue to take place. He added, "We would lose a great deal in society if we lost our faith schools."
Bishop Arnold was joined by a number of speakers including Nazir Afzal, (Former Chief Crown Prosecutor for North West England), Ivan Lewis MP (Labour Bury South), and Tony Lloyd (Mayor of Greater Manchester and Greater Manchester Police and Crime Commissioner). Each speaker brought a unique perspective to the discussions, which were followed by Q & A sessions.

All those who attended the event expressed their commitment to working together to find solutions to the issues covered. Whilst not yet established in Manchester, there has been interest in forming a Manchester Citizens alliance.

To watch Bishop John Arnold's opening words at the meeting, see: www.youtube.com/watch?v=vOsQvpo28GU

To find out more about the work of Citizens UK, visit: www.citizensuk.org/
Source: Diocese of Salford