US breakthrough for CAFOD campaign: big companies forced to 'open the books'
---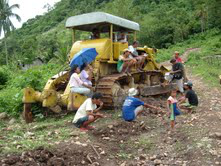 Last week's historic announcement by the US Securities and Exchange Commission (SEC) implementing Section 1504 of the Dodd Frank Act is of huge importance for women and men in developing countries. After tireless campaigning, some of the world's poorest people will now find out what US-listed oil, gas and mining companies pay for the resources they extract from their land.
Key elements in the rules adopted by the SEC last Wednesday require US-listed oil, gas and mining companies to report their payments to governments on a country-by-country and project-by-project basis. There will be no reporting exemptions of any kind, and disclosure applies to all payments over US $100,000. This is great news for CAFOD's campaign to shape EU laws as well. And it means that governments around the world are starting to sit up and listen to calls for justice for the world's poorest communities.
The timing of the SEC's rules is critical because the European Union is in the final stages of agreeing similar legislation to require oil, gas and mining companies listed on European stock exchanges to open up their books as well.
CAFOD's Private Sector analyst Anne Lindsay said: "This is a breakthrough for people living in poverty in countries which are rich in oil, gas and minerals. The rules specifically recognise that companies need to publish what they pay in each country and for each project. What is more, many of the arguments that big business has used in the UK and Brussels to resist these changes have been examined by the SEC and found wanting. We must no longer allow industry pressure to stop communities getting the project-level information they deserve about how their natural resources are being bought and sold."
"MEPs and EU Member States must now build on the US announcement with a strong Directive which will reduce the risk of corruption in countries rich in oil and minerals."
CAFOD, with its supporters, have been playing an important part through the 'Open Up the Books' campaign launched in March last year. And the organisation has seen a remarkable series of successes with the other members of the international Publish What You Pay coalition. After CAFOD called on the government to champion country-by-country reporting last year, the Prime Minister responded in July 2011 by endorsing the call for the EU to ask extractives companies to publish what they pay for the minerals they take. In February 2012, the coalition came together to urge UK government ministers to close the loopholes in the proposed EU
legislation. Then, in a tour of Europe this summer, Nobel prize winner Aung San Suu Kyi lent her support to calls for businesses to open up their books.
Through 'Open Up the Books', CAFOD supporters have joined bishops in resource-rich countries such as the Democratic Republic of Congo, Peru, Colombia and Chad as well as prominent MEPs in calling for a strong EU Directive without loopholes . As part of the global Publish What You Pay campaign there have been over 140,000 actions taken on this issue worldwide.
Richard Solly, Co-ordinator of London Mining Network, commented: "The US Securities and Exchange Commission's insistence that mining, oil and gas companies publish payments to governments on a project-by-project basis is welcome, and we must hope that European Governments, including the UK, follow suit.

"But this is not all that is needed to bring justice to mining-affected communities. Many such communities want to say no to mining projects or to get just compensation for the destruction of their lands and livelihoods.

"Many mining companies, including companies listed on UK stock exchanges, behave appallingly, and there is a need for much stricter regulation across the board, as we pointed out in the report we published in March. Openness about tax and royalty payments would be welcome but it is only a small part of the picture."

LMN's report on the need for stricter oversight of UK-listed mining companies can be viewed at http://londonminingnetwork.org/docs/lmn-the-case-for-stricter-oversight.pdf
Find out more about CAFOD's campaign to 'Open Up the Books' here: www.cafod.org.uk/take-action/open-up-the-books
To read the new US Act see: www.state.gov/r/pa/prs/ps/2012/08/196882.htm